A list of options and their current settings will be displayed. The selected options are stored in memory and will be read each time the program is started.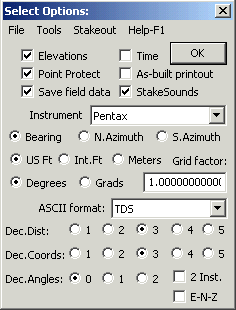 Elevations
If not checked, the program will not require entry of H.I. (height of instrument) or H.T. (height of target), and will not compute elevations in most functions.
Point protect
If checked, a warning will be given and a confirming OK is required before overwriting a coordinate point which is already used. If not checked, a point will be stored as specified with no warning, used or not.
Save field data
If checked, the field data created in the Collect function and sideshots in the Stakeout function will be saved.
Time
If checked, the time of each shot will be saved in the description field of points created in Collect and Stakeout. If you have entered a description of less than 11 characters, the time will be appended to the end of the description, otherwise the program will ask if you want it to replace the entered description.
As-built printout
If checked, the stakeout functions will produce an as-built (as-staked) printout file with the same name as the job and an extension of .AS which can be printed out on your desktop PC. In stakeout, you press the Sideshot key to save the as-built points, and the data is added to the printout. Remember that if you do not print and then delete your printout file from memory periodically it can become huge and occupy too much memory space.
StakeSounds
If checked, the stakeout routines will have an audible sound to indicate how close you are in distance to the desired position. The sound gets higher in pitch as you get closer to the position, then stops when you are very close, then gets lower in pitch as you move past the position.
Instrument:
Select the type of instrument to be used from the drop-down list box. For instrument settings and operation, see Instruments.
2 Inst.
When this box is checked and you hit OK, another drop-down list box will appear to choose a second instrument like a depthfinder which can modify the data from the first instrument.
Brg,N.Az,S.Az
Press a button to select quadrant bearings, north azimuth or south azimuth.
Degrees / Grads
Selects working in degrees or working in grads (360 degrees = 400 grads).
Feet / Metres
Selects working in feet or metres.
Grid factor
Enter the Grid factor to be used. If you do not know what the grid factor is, use the default of 1.0000. All Slope distances are multiplied by this factor after reducing to horizontal distance, useful when you are using state plane or UTM coordinates.
ASCII format
Select the type of ASCII file format to be used from the drop-down list box. This is for transferring field data to ASCII files so it can be read by most office processing software. TDS format is the default and most common option.
Dec.Dist
Select a number from 1 to 3 for the number of decimal digits on distances.
Dec.Coords
Select a number from 1 to 5 for the number of decimal digits displayed for coordinates. All calculations are done to 16 significant figures.
Dec.Angs
Select 0 for no decimal seconds or 1 to show tenths of seconds on angles and bearings.
Baud rate
This function is on the Tools drop-down menu and is used to set the baud rate and other RS232 parameters when you need different values than the default baud rates for your instrument.
Make your choices and hit OK. If any of these settings do not match how your instrument is set, you will not get communication. The settings are stored and used each time, unless you change to a different instrument in the Options function, then they will be set to the default settings for that new instrument. If the Test mode box is checked, the program displays every string of data as it comes in from the instrument for testing purposes. Timeout is the length of time that the program waits for an instrument to respond before displaying a 'Data not received' error. You may want to set this longer than the default 20 seconds if you are doing long shots or through trees where the shot is taking longer than 20 seconds. COM: is the number from 1-9 for the COM port you want to use. The standard serial port is COM 1, a compact flash GPS is usually COM 4.
AutoSS is used with Robotic instruments and GPS to make the program store a Sideshot automatically at the given time interval between 0 and 3600 seconds. AutoSS by time starts after you hit Measure on the Collect screen. AutoSS by distance works only with GPS, and stores a shot after you move a specified distance from the last sideshot. To start AutoSS by distance hit Measure, then Sideshot, and the program will display the AutoInverse bearing and distance from the last sideshot.